Alpha Test
— 2018

︎ Preview coming soon
Ronnie Karfiol's project Alpha Test was realized during a residency at Cripta747 in Turin, Italy. It is a fabrication of a legendary factory (or Fabrica in Italian). Using bundles of images taken inside the abandoned building, combined in 3D, what surfaces is a surreal ghost of not only past-industrialism, but also past human-machine relationships.

The 3D recreation of the space investigates the abandoned O.G.M. (Offizine Grandi Motori) Fiat factory, the place used from the late 1890's until the early 1970's as the main engine factory for the car firm. As it does so, the archaeological metal ruins of the Industrial Age become abstract as humanity drifts slowly but fiercely into the Artifical Intelligence age. The viewer is invited to participate in a meditative trance, to sit on the passenger's seat in front of the screen and to immerse in the moment of letting go of the control over the driving car, or the machine. Alpha Testing, referring to the first (pre-beta testing) in-house in-factory examination of a new technological product, also takes an inspiration from the lone tangible memory inside the abandoned fabrica: a sign with the letter Alpha printed on it.

Alpha Testing is an odd car simulator-inspired video work which transposes you, the viewer, into the wretched mind of an autonomous car; a guided meditation about losing power to the AI mind, but also allows a sneak peek at what awaits if we could let it guide us into a beautiful quest.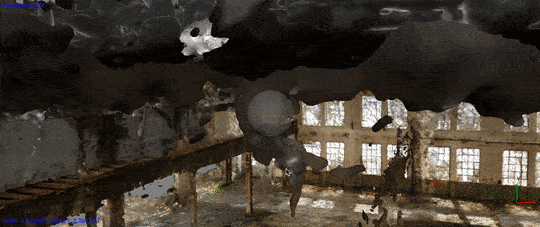 O.G.M. General 3D model look
O.G.M. was also used during the two world wars for engine manufaction to the Italian Army vehicles.
Photo shows the post- bombing state of the building, in World War II
Installation View at Cripta747, Turin, Italy